I was not sure where to post this one.
RA Stuff? CS Seax Project? Or Leatherwork.
Well since the Non-Tolkien Ranger stuff is a bit scant still, I will start here.
I have been saying I wanted to make a good run at Flanagin's Ranger Sax (as he spells it).
I want to make the thrower too but have not arrived on the right piece for that. I have several in mind but I am not quite there yet.
My Son in an avid Rangers Apprentice fan and is also doing very well with the same character in the SCA, in fact the initial idea for the Ranger Moot we just did was his!
So I got him the axe and seax and thrower for Christmas and since I have been doing the seaxes I decided to put his set together.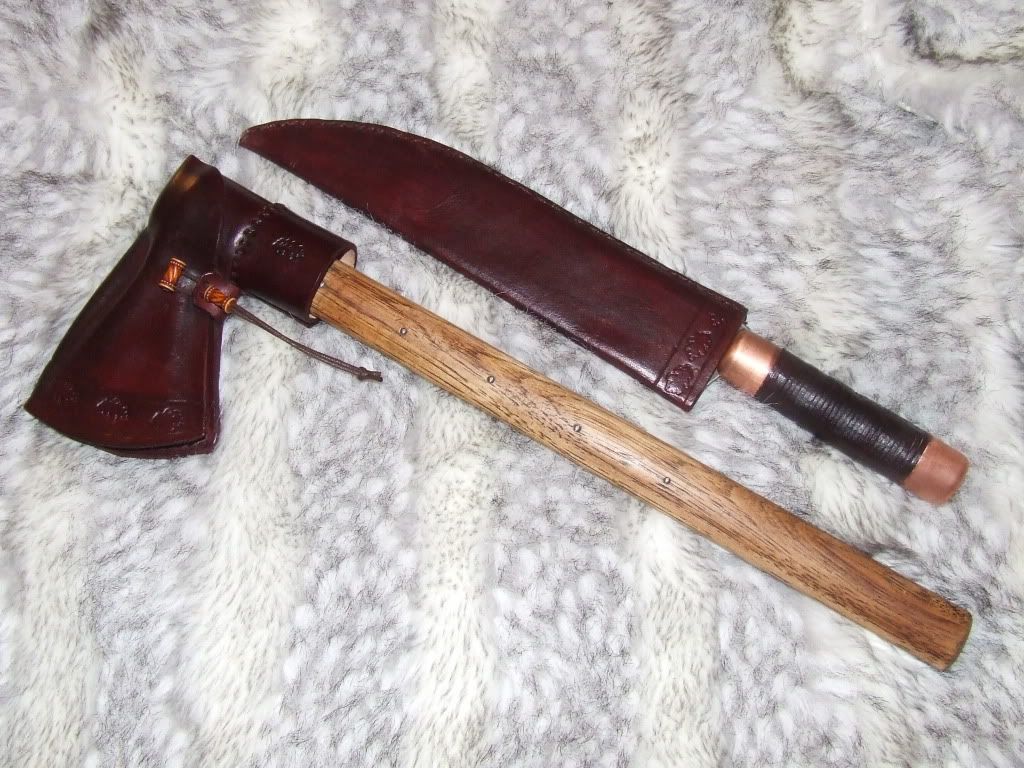 The Seax itself should be pretty simple and though I have been using the copper caps rather than brass guards or butts or steel ones (which eventually I will find and learn to use) I decided, rather than waiting, to get in there with my own interpretation within my current technological limitations.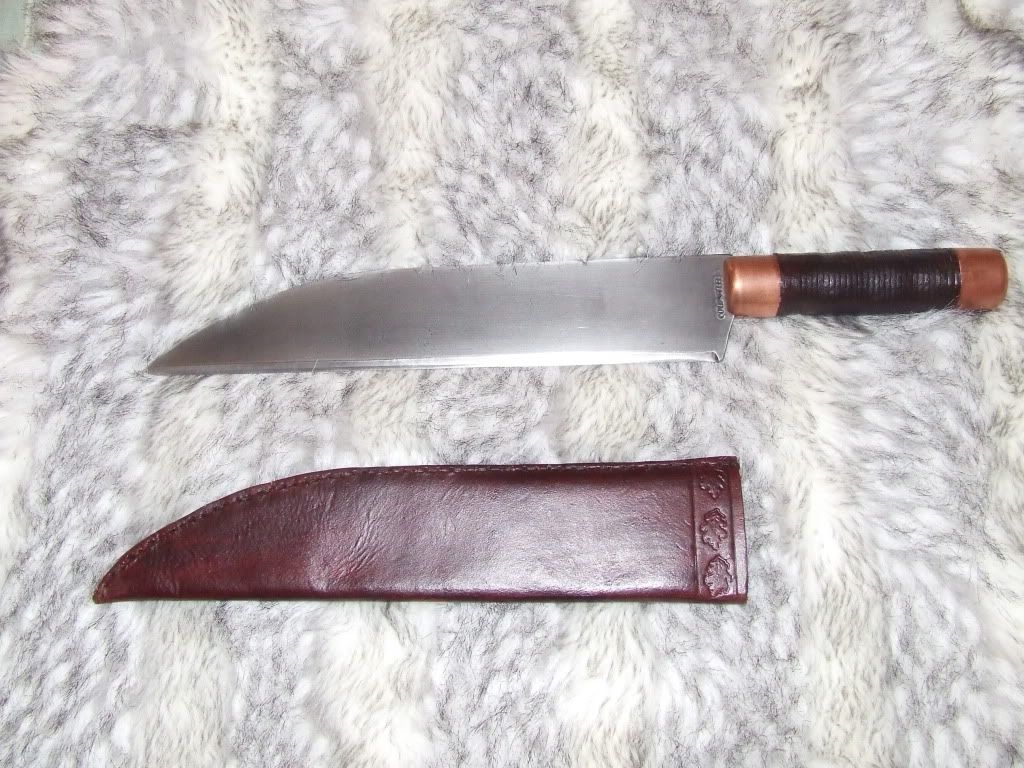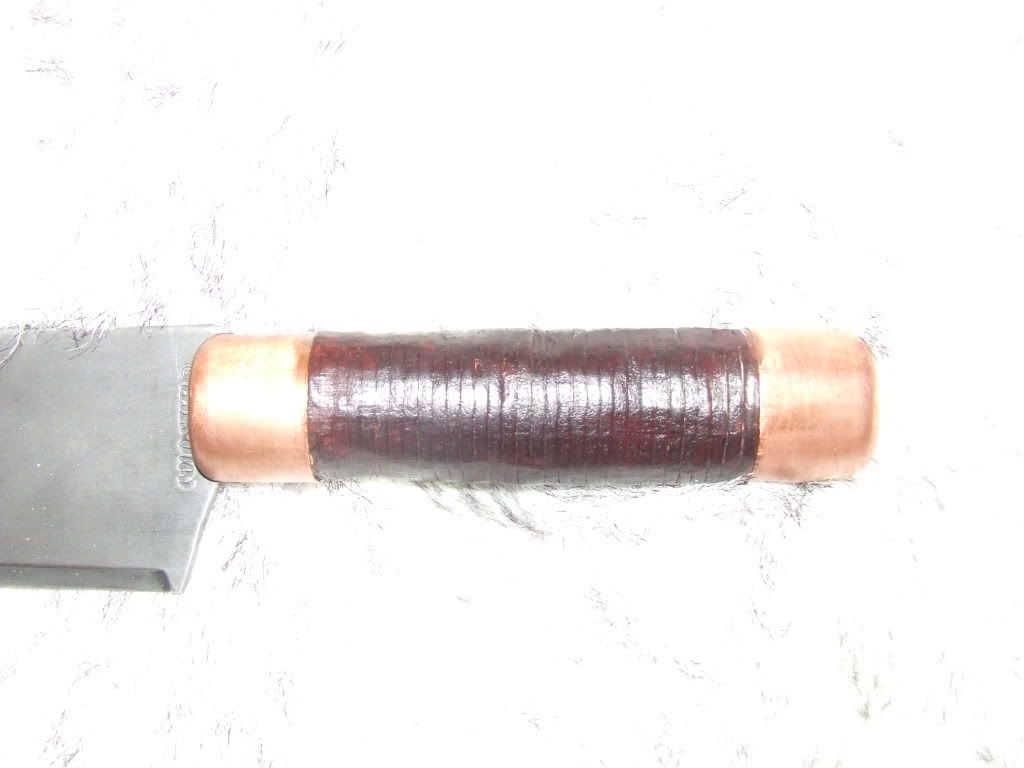 I started like the others with the copper plumming fixtures and the polymer clay but instead of making the clay one solid peice (which has been working very well), I went for the stacked leather washer type look with stacked polymerclay washers.
Bad Idea!
First throw the handle cracked and we had to take it back to the drawing board.
The second attemp was much better and that is what I show now totally untested so you will have to bear with me on the durability aspect.
It is all the same construction save for the PC disks that I had the ingenious idea to go ahead and do it for real, as I should have in the first place, out of leather disks. (Novel huh? Duh!)
I sat down after the PC Throwing failure with this style and just dedicated myself to cuttlmg out 40+ 8 oz disks, punching two holes in each at the far points of the tang width and diameter to match the thickness, then cutting two slits on each to connect the holes.
They were rather time consuming but worked very well. I then sanded them down but left them a bit rustic, (I did not want it to be as pollished as my K Bar), stained it and treated it with brown shoe polish, then buffed it up nicely.
The Axe is a CS Fronteer Hawk with a replacement handle that I had put some tiny little brass tacks in to liven it up a bit.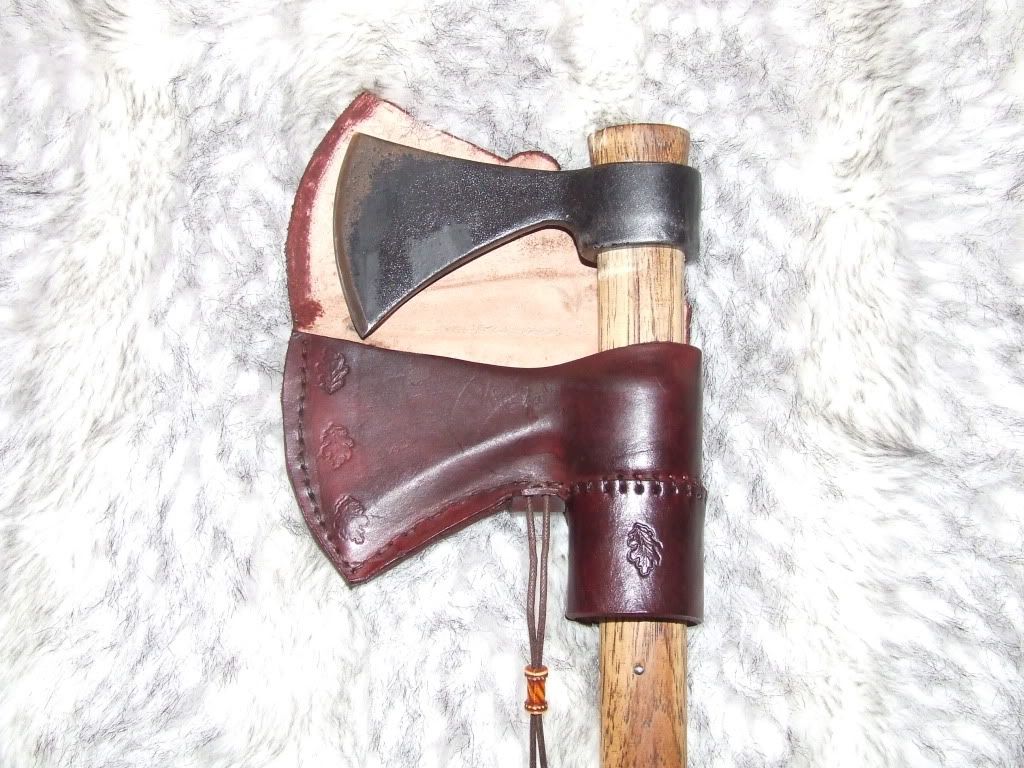 This axe throws beautifully and is very lively in the hand for just about any thrower. As my Son did not want the bigger "Skandian" style Norsehawks or the big bearded ones, I made sure he got this.
The final step was making a matching Axe and Seax sheath set.
My son is a lefty so we put his seax on his right hip for a sword like draw in a horizontal orientation.
It is made of two peices just the fold over blade covering and the rectangular belt holder on the back. I stiched through all three peices of leather on the top to make it cleaner and more efficient and then cut a row of stiching holes toward the bottom for the lower seam.
I used the Fiebing's leather dye in Dark Mohagay, Wow what a huge difference over the Eco-Flo water based stain! You have to be more careful but the coverage and consistancy were a vast improvement!
All stitching was done in my Olive drab "Ranger Thread" (I may have explained this one already, but this is the thread my Dad got when I was a kid. He was a parachute packer in the reserves by that time and I guess this is the stuff the Air force was using then. He used it for all kinds of things yet there is enough still on it that I was thinking this roll was going to outlive me and still might!
I am gonna give it a run for the money though!)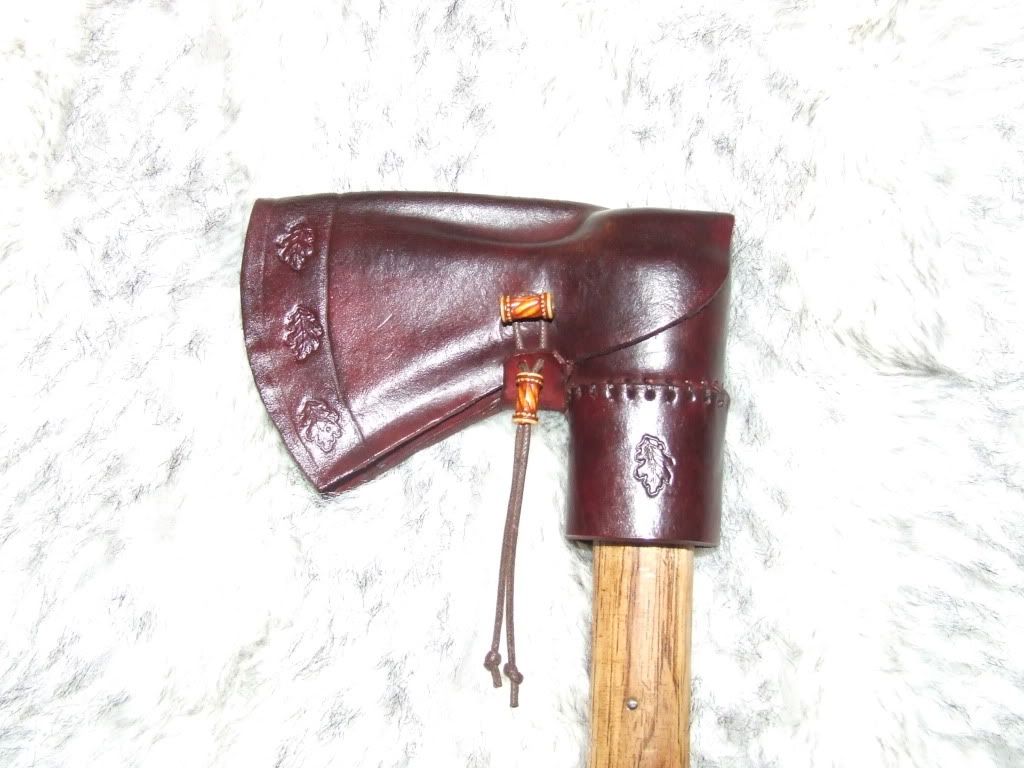 The last part of the project was the Axe sheath. I have had a couple of stupid "Boo Boo's" lately sticking my axes through my belt during throwing sessions (no not that kind of injury!)so I made some cool larp leather type covers to go on them to keep them from biting me.
The other day someone was looking at them and put the axe in improperly and cut the lower seam without my knowing it. So as I was Marshaling, I did not realise that the cover came off and the axe was exposed, I brought my hand down quickly and scliced the tip of my right ring finger on the pinky side below the nail to the bone. I was being judged for my accredidation as a thrown weapons marshal and did not need an instant fail, so I stuck my gushing finger in my mouth saunterd over to my bag and wrapped the hell out of it with green handle tape. few noticed and I still passed but I did a number on it for sure. BTW all heeled now and feeling actualy starting to come back PTL!
Anyway, a long story just to say I am pretty adament about covering these live blades now and certainly don't want my son to pick up my bad habits, so the leatherwork has become my next challenge.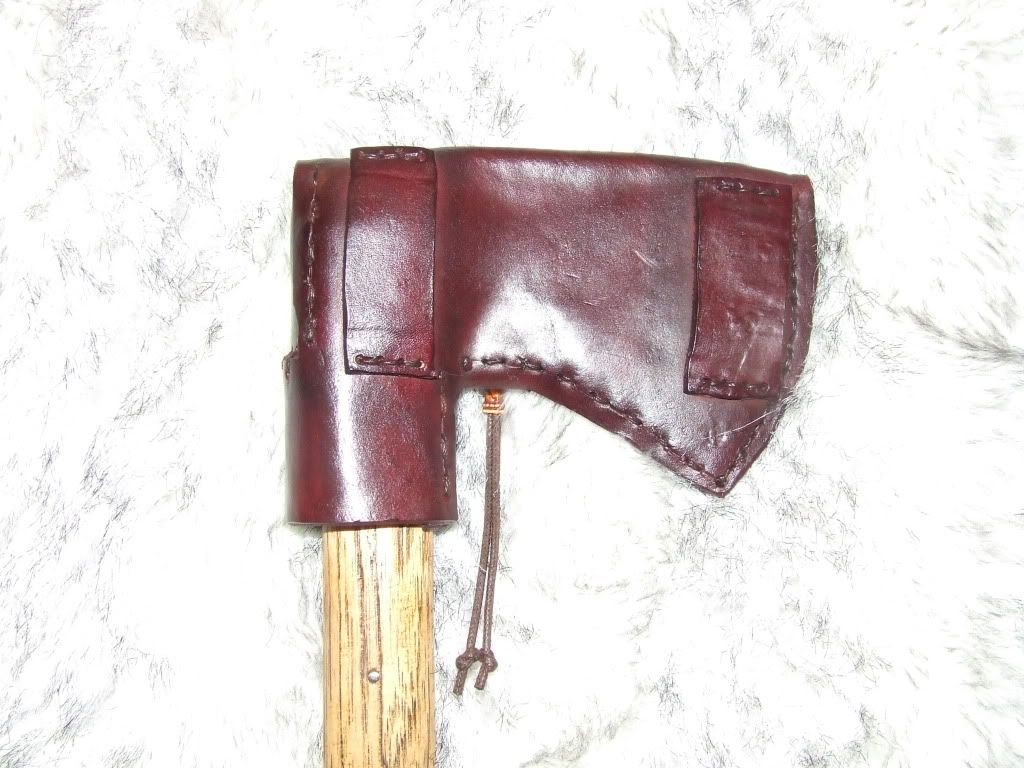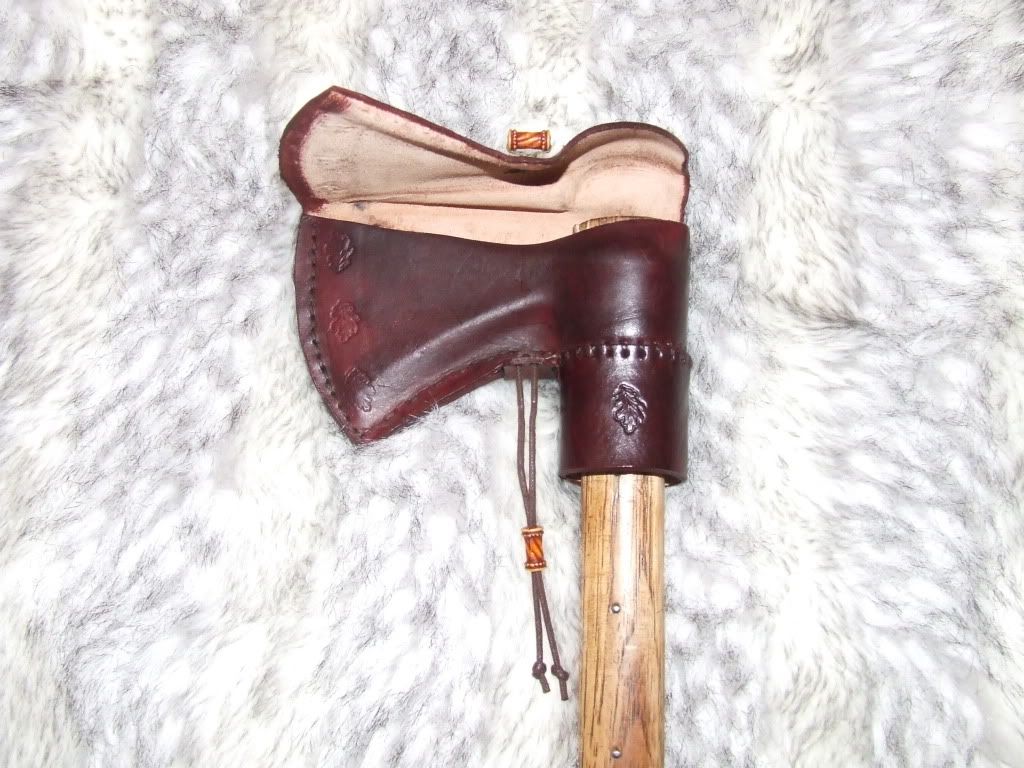 I designed this axe sheath to be a bit more period looking instead of the ones I have been seeing that are of the 1950's and 60's vintage.
Made of two peices, front 6 oz formed over the front of the head and the back of the 8 oz (oh 4 peices if you count the two belt loops I put on the back)
It is all stiched too and the fastening is just two Bone buttons and some lacing to keep it from having snaps and such. The cuff comes from the back peice as does the flap.
I have plans of the thrower mounted in a mirror image sheath connected by straps to hang below the seax. (Not exactly as the cover art in the Aussie version shows but at least a side by side type which after long arguments about it being a by-knife, kangaroo pouch type, I relented.